So the house is officially on the market, it's online, and we have a sign out front and everything.
[caption id="attachment_119164" align="aligncenter" width="1920"]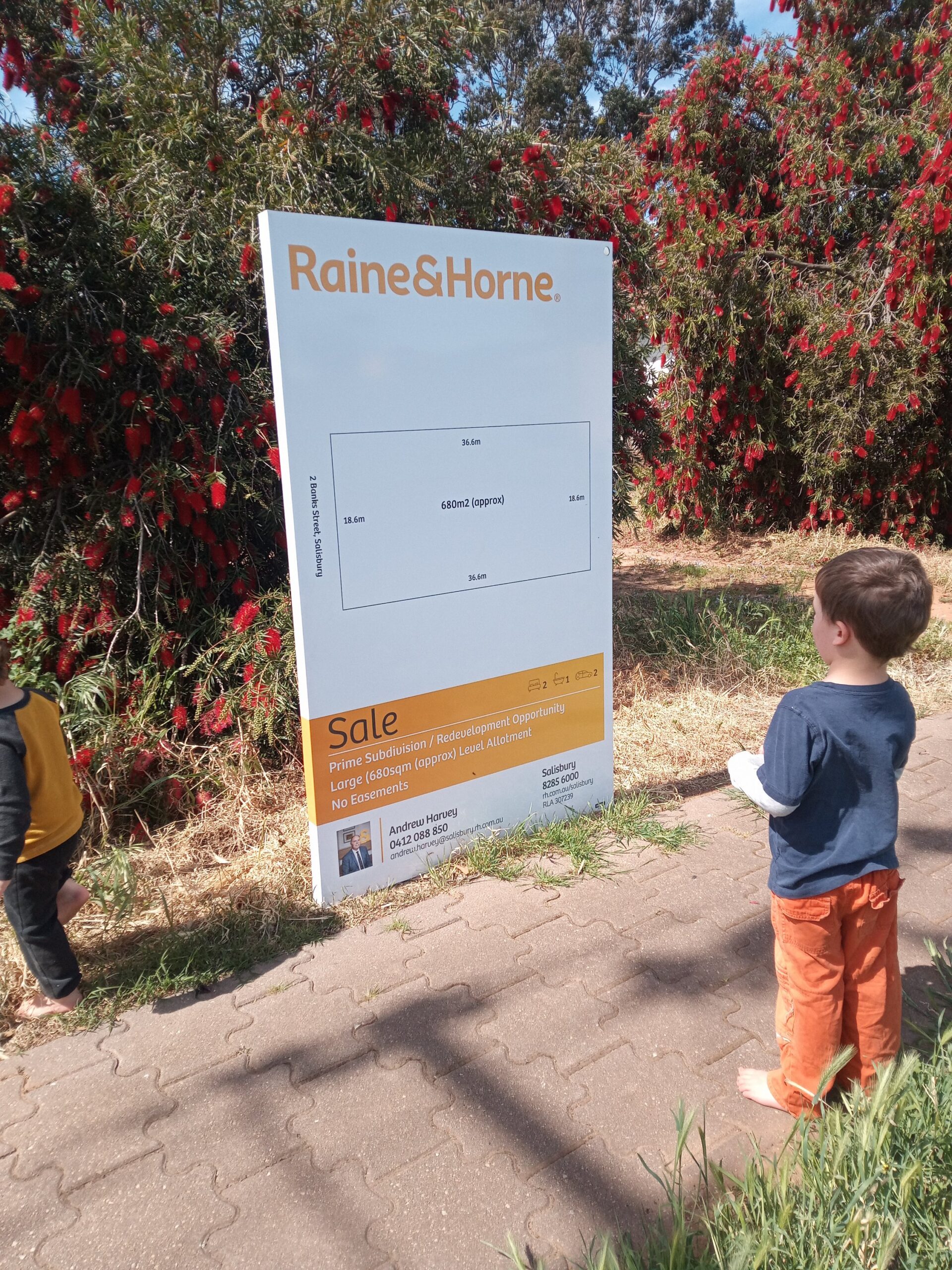 Micah doing his usual thing trying to read every word he sees...everywhere.[/caption]
Thursday around lunchtime, when I was (what else?) cooking lunch, I had a brother and sister come to the door to ask about buying the house before the first open next Tuesday. I said they should probably go through the agent, and the sister (the extrovert of the two) said they'd tried ringing him, but he was busy. So they came directly to the owner because they thought that might give them a better foot in the door.
Now, if you know anything about me at all, you know that I'm an introvert - I don't like being surprised by people on my doorstep unless they're delivering a package to me. And I'm not a big fan of things being sprung on me all of a sudden.
So here's the deal: they offered $10k over what's being advertised on the listing. So it's a good offer. But their story didn't add up.
See, one minute they said they wanted to live here, and the next they said 'you can stay as long as you like till you find another house.'
And they didn't want to see the inside of the house - they didn't care about that, they just wanted to buy before the open. But if they wanted to live here, why wouldn't they want to see the inside?
They also dropped this gem: that if I told the agent we were friends (!) I could pay less commission when the house sold. I'm not even sure if that's true.
To shut them up, I told them I'd have to check with my husband and think it over. They asked for my mobile number (which in retrospect I wish I hadn't given) and I went back to making lunch, and they walked away.
I emailed the agent to let him know they showed up, and he wasn't happy about it. He'd been in meetings all morning so hadn't got their message earlier. One thing he said was that people new to the country don't always understand the etiquette (which I can thoroughly understand!) so that might be why they thought it was ok to come talk to me instead of going through him. So for the moment, I assumed that was the case and went on with my life.
Then that evening, the sister texted me a long explanation reiterating what they'd said when they came to see me. That they wanted to buy it before the open, and they don't care how it looks inside, and we can stay as long as we need, and it's a good offer. And she said if I didn't accept their offer within 48 hours, they'd withdraw it because 'Hope you know there are so many other properties that can give me hips [sic] better rental income which I don't want to miss on while waiting for your response to my offer.'
Okay...so first they said they want to live here, then they said we can stay as long as we like, and now she's saying they want the rental income? Huh? All sounds a bit suspicious to me.
Friday morning at about 9:30, I got a text saying that if I didn't accept the offer in 1 hour, they'd withdraw it.
Okay, so Thursday night you said 48 hours, and Friday morning you said 1 hour. You want to live here, but you want the rental income. You want me to lie to the agent, tell them we're friends, and accept your offer which you brought to me unannounced, uninvited AT MY HOUSE while I was cooking lunch for my kids, and getting ready to go to a friend's house.
All of this left me feeling harassed and slightly threatened. So I replied back that they should withdraw their offer and stop contacting me.
We'll see if that's the end of it...